The Solo Practice of Creating a Great Relationship
Right now I am away on retreat in Nice, France with some of my beautiful Life Coach soul sisters.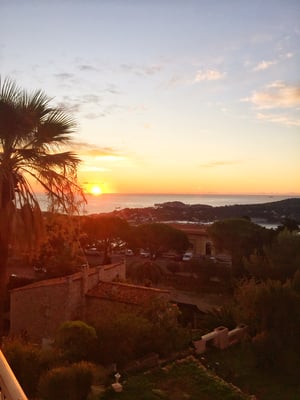 I am writing my new relationship book in a room overlooking the Mediterranean.
We are exploring the villages nearby, sharing ideas and inspiration.
We are doing yoga on the terrace and spending our evenings enjoying amazing food and even better company.
It is a pure joy to be here and also this trip is an act of self-investment.
I am intentionally focusing my time and energy on what nourishes me.
I can sleep and eat according to my own preferred schedule and practice self-care in an environment where I am not also looking after my children or working with my husbands schedule.
I will admit, it took me about a day to remember that I am not beholden to anyone else but me while I am here.
Most of us in relationships have come to believe that the most kind and loving thing you can do is look after your partner first and put their desires above yours.
I think we have this wrong.
A fantastic relationship as a side-effect of the solo practice of looking after yourself at the deepest level.
Think about this:
What would it be like to spend a few solo days to work on something you are passionate about?
To just read a book?
Catch up on sleep?
Eat the foods that support you most?
What if you had time where you didn't have to consider someone else's preferences and could bask in the things YOU love?
I think this is the secret to the universe when it comes to a great relationship.
When you roll up to your relationship with a full tank, the only thing for you to do is have a great time with your partner.
Retreats like these remind me that I don't need someone else to give me what I want. I am perfectly capable of getting it for myself and I go back into my life knowing that all my husband or children need to do is be there for me to love.
That is the most empowering place to be and makes creating a great relationship so much easier.
If you are ready to do the solo practice needed to create a great relationship, you don't need to wait until the next time you can get away alone, I can teach you how to do it starting now.
Book a free consultation here to learn all about to create the amazing relationship YOU want.